Wooliedales Etc.
Needle felted Wool Sculptures of Airedales, Animals Etc.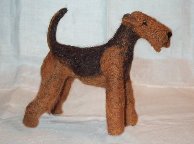 The spontaneous and the unexpected is the essence of my desire to sculpt in wool using the fiber arts technique of needle felting. My needle feltings have hundreds of owners nationally and internationally. I simply enjoy "bringing wool to life" and releasing the results "to the wind" for the pleasure of all those who find joy in the 'touch' of the needle felted wool. Fiber arts are appealing both to artists and collectors who find this tactile pleasure irresistible.
| | | | | | | | |
| --- | --- | --- | --- | --- | --- | --- | --- |
| | | | | | | | |
| Wooliedales | Wooliedogs | Various Animals | Specialties | Woolies for Sale i | Woolies for Sale iI | Minidales | Jesse & Scuffer |
Note: I am currently taking limited commissioned work. Contact me for availability if you desire to place an order. Otherwise, check out my "Woolies for Sale I & Woolies for Sale II" pages by clicking on the links for those pages.

This harbor seal has a home on the Oregon coast

Cute-as-a button

Harbor Seals

Seals have large eyes to see in dark, deep water. They have long necks which they can extend quickly to catch fish while swimming.
They usually spend their entire lives in an area of about five miles.
A mother leaves her pup after the first month to finish growing and fend for itself. Mothers do not teach pups to hunt; they learn on their own.

Seals dive for three minutes at a time but can stay under water as long as 30 minutes and dive as deep as 600 feet. They use oxygen already in their blood and muscles while under water, and their heartbeat slows from about 100 beats per minute to 10.
A seal's whiskers help it hunt and navigate by sensing pressure waves from fish and underwater objects.

---

My blog also has photos of Woolies I have sculpted recently.
Website and photographs copyright © 2001-2013 by Usher Associates, LLC. All rights reserved.
Revised: 04/06/13 14:29:17 -0500.